Description



Researched Soviet screwback Order of the Red Banner #75494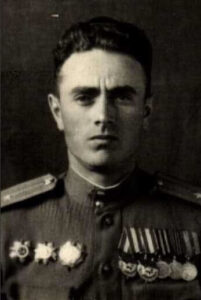 Awarded to Captain Nikolaj Dmitrievich Kolesnik (Николай Дмитриевич Колесник)
For personally leading his men through a mine field to the enemy trenches

This original order of the Red Banner is made of silver and enamels. It measures 41.37 mm in height, 37.02 mm in width and weighs 23.4 gram without its screwplate. The serial number and mint mark are located at the 6 o'clock position of its reverse. The minimum known serial number in this range is 67729 and the maximum 79807.
In excellent, well above average condition. The details are mostly present and the higher laying parts like the center wreath shows little to medium wear only. The enamel shows some minor chipping which is often seen with these screwback Red Banners. Still, far less than average and almost all enamel is still there. Much gold plating is still present as well and the screwpost has not been shortened. It comes with its time period silver screwplate and there have been no repairs.
An screwback Red Banner in excellent condition with interesting research. Hard to find! 
Brief, concrete description of his feat of arms or achievements:
"During the enemy defence break through near the village Orlovka (Zalegoshch district, Orel region), captain KOLESNIK's battalion was assigned to act in the main assault sector. The enemy had strong fortified defence line, which required exceptionally thoroughly planned and coordinated effort to break through.
The commander captain KOLESNIK had managed fully to achieve the given objective. After having thoroughly analysed the objective, he delivered the mission information to his every soldier. He organised precise combat coordination and fire support between his units, as well as with the supporting units.
Tirelessly, he personally was preparing his men for the combat task. Bravely, he personally raised his men for assault. All this assured the success. The battalion led by captain KOLESNIK crossed the mine field and overcame the barbed wire obstacles in a coordinated attack. Thanks to the battalion commander's skill and initiative, the battalion captured the enemy trenches and pushed the enemy from his stronghold, which disrupted the enemy fire defence system. This enabled other units in achieving their combat objectives.
For personal bravery and courage, for military skill in leading his battalion into battle, comrade KOLESNIK deserves a state award – order "Red Banner"."
The full translation of the research can be found here: 
Some additional research has been done and a battle map of the 287RD Orel offensive and a map before the operation (07 Jul 1943) can be found in the picture galley. Also there are the combat order and combat report of the 287RD on 12 Jul 1943.
NB. In the picture of captain Kolesnik it looks like his Order of the Red Banner is on a suspension. On closer examination it is clearly visible that the first slot of the suspension has no order attached to it and the order underneath is separately attached to his uniform. This is illustrated in the last image in the picture gallery.
Please contact us if you have questions regarding this item