OUR SERVCIES
Authentication Service
Certificates of Authenticity
Due to increasing demand and several requests we offer an authentication service for all our customers. Whether items are purchased here or on other platforms. When buying one of our high end Soviet items a certificate of authenticity can be ordered free of charge! On all our other items we charge a €40 fee for this service. When requiring a certificate for items not purchased on SovietOrders.com, we charge €50 per certificate.
Our laminated certificates have several security features like specially designed paper, uniquely numbered holograms, embossing stamps and a signature. In addition we keep a database so that it would always be possible to check your certificate with us. Below you can find some examples of our certificates.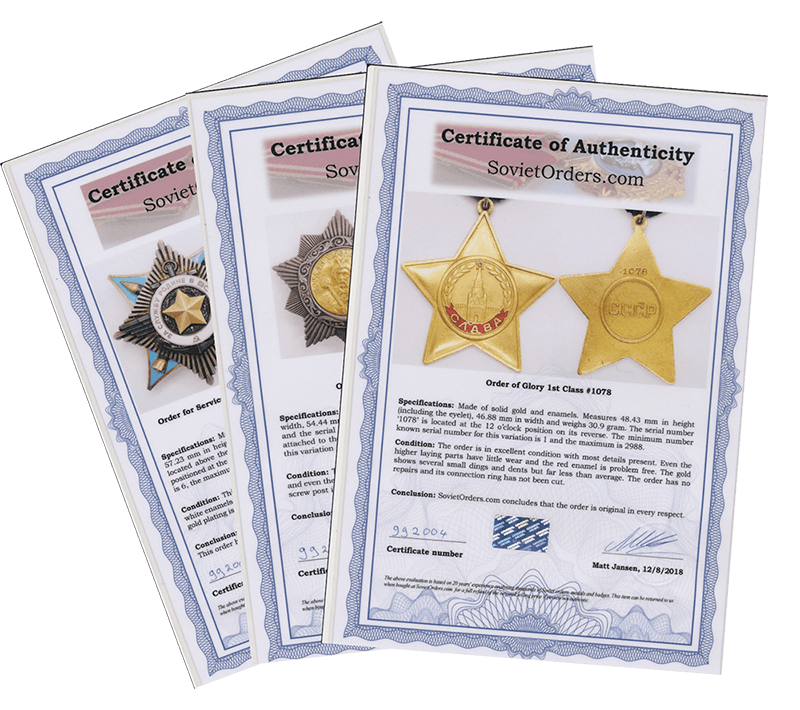 BUY FROM US
We offer a wide variety of Soviet awards for a sharp price. All our items are covered with a money back guarantee if not authentic.
Free Shipping for orders over €500!
We buy Soviet orders, medals, badges and complete collections. We can offer high value since we take very small margins and have low overhead expenses. Therefore we can give you the best prices on the internet! 
EASE OF PAYMENT
Bank transfer (no extra costs)
Credit Cards (+5%) and PayPal (+6%)
Western Union
Payment Plan
Please contact us for more payment options