Description
Order of the Red Banner #30873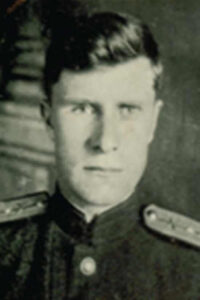 Awarded to Senior Lieutenant Ivan Ivanovich Vlasov (Иван Иванович Власов)
For personally directing the artillery fire destroying 4 tanks, 16 machine guns, 1 75-mm gun, 20 wagons containing ammunition, and as many as 2 companies of enemy infantry while subjected to aerial bombardment by dozens of enemy aircraft (60-70 aircraft) 

Made of solid silver and enamels. Measures 39.91 mm in height, 36.25 mm in width and weighs 23.5 gram without its screwplate. The serial number and the mint mark Monetni Dvor are located at the 6 o'clock position of its reverse.
The order is in excellent, well above average condition. The higher laying parts such as the center wreath and the torch show light to medium wear and have most details visible. The red enamel is mostly present and in far better condition than most screwback Red Banners and only shows some superficial flaking and two small repairs on the top banner. The white enamels are pristine. The screw of the order has not been shorted and it comes with its time period and well fitting silver screwplate.
Short, concrete description of his feat of arms or accomplishments:
"Since the moment he was assigned to the 226th Independent Antitank Battalion, the commander of the 2nd Battery, Senior Lieutenant Vlasov, has proven to be an energetic, strong-willed, fast-rising, and highly cultured Red Army commander.
During the fighting between June 28, 1942 and July 4, 1942 comrade Vlasov's battery destroyed 4 tanks, 16 machine guns, 1 75-mm gun, 20 wagons containing ammunition, and as many as 2 companies of enemy infantry.
When our infantry withdrew from the village of Milyayevo on orders from unit command, comrade Vlasov's battery provided covering fire for the withdrawal of our rifle units. Comrade Vlasov personally directed the artillery fire. During the ceaseless three-day fighting near the village of Minyayevo, and later near the village of Klyuchinki, the battery was subjected to aerial bombardment by dozens of enemy aircraft (60-70 aircraft), heavy artillery and mortar shelling, and rifle and machine-gun fire. Nevertheless the battery suffered only insignificant, single-digit losses. These successes in battle stem from the battery's preparations during lulls at the front line, which were utilized to the fullest extent for intensive combat training programs and for preparing fortified firing positions and camouflaging them.
Under comrade Vlasov's guidance the battery grew into a tight-knit and brave combat unit that doesn't fear any difficulties and sets about destroying the enemy in an equanimous and decisive manner.
He deserves this nomination for an award."
The full translation can be read here
More info on Lt. Vlasov can be found here
Please contact us with questions