Description
Medal of Ushakov #8027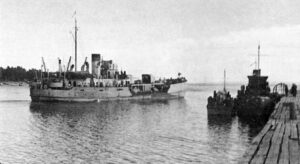 Awarded to Petty Officer Ivan Grigorievich Kutsenko (Иван Григорьевич Куценко) who served on the German(!) build Zeya gunboat which was purchased as late as 1941!
For exemplary service showing outstanding initiative, serving as both a gun loader during artillery barrages and operating the artillery shell loading mechanism. His leadership and dedication during a crucial mission to Ösel island set a heroic example for his fellow Communists
Made of solid silver. Measures 36.30 mm in width, 48.61 mm in height and weighs 31.1 grams without its suspension. Featuring admiral Ushakov surrounded by 84 'pearls'. The serial number, "8027", is located on the reverse of the medal. The minimum known serial number is 9 and the maximum 15704.  
In excellent, well above average condition with light overall wear. The medal shows several dings and scratches but the details of the raised parts like Ushakov's face are perfectly visible and crisp. All parts of the suspension are original and time period including the silver chain, the ribbon and the double layer steel suspension itself. Its connection ring has not been cut.
Scarce medal in excellent condition
Brief, concrete description of his feat of arms:
KUTSENKO serves as chemists team commander in the ship crew. During his service, comrade KUTSENKO learned several specialities. Such, as he often replaced gun loader during artillery barrages, or often manned artillery shell loading mechanism. All this on his personal initiative. For his excellent work, comrade KUTSENKO has received many gratitudes from the ship commanders. When the ship transported landing infantry party of the Red Army and combat vehicles to the island Ösel, Communist party organiser comrade KUTSENKO led by personal example and inspired his fellow Communists to exhibit exemplary work loading and unloading the equipment and ammunition to and from the ship. Comrade KUTSENKO and his fellow Communists finished all the work perfectly.
The full translation of the citation can be read here
More information on Starshina Aniskevich can be found here
Information on the Zeya gunboat:
The "Zeya" gunboat, was one of the eleven "Amgun" class gunboats. It served during WWII on both the Ladoga Lake and the Gulf of Finland. The hulls were initially built in Germany before the war and were acquired by the Soviet Union between 1940 and 1941(!). The gunboat "Zeya" was notable for its support to army units near Leningrad by artillery fire and its movement to Kronstadt in spring 1944. It was involved in several engagements along the south seashore of the Gulf of Finland, eventually moving to Helsinki on 23.04.1945 where it survived the war. The "Zeya" was armed with two 130mm guns, typical of its class, except for the "Bira" which had three.

Please contact us with questions