Description
Soviet Medal of Ushakov #13340
To Senior Seaman Pyotr Ivanovich Mishchenko (Петр Иванович Мищенко) 
For service on the battleship 'Sevastopol'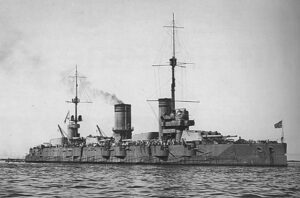 Made of solid silver. Measurements; 35.71 mm in width; 48.61 mm in height. Weight; 33.2 gram without its suspension. Featuring admiral Ushakov surrounded by 84 'pearls'. The serial number, "13340", is located on the reverse of the medal. The minimum known serial number is 9 and the maximum 15704.
This Medal of Ushakov is in excellent condition. There are several dings and small scratches and the higher laying parts show medium wear although most details are perfectly visible. All parts of the suspension are original and time period including the silver chain, the ribbon and the double layer steel suspension itself. Its connection ring has not been cut.
Scarce piece with research to the battleship 'Sevastopol'!
Brief, concrete description of his feat of arms or achievements:
"Comrade Mishchenko has taken part in all combat operations the ship conducted. He has shown himself a steadfast and selfless sailor during damage control activities and the efforts to ensure the ship's ability to stay buoyant.
During a combat operation, a severe storm threatened to take an anti-torpedo gun out of action. Selflessly toiling to put a halt to the great amount of water entering the ship, he stopped the influx of water and thus prevented damage to the 120-mm gun battery.
Mishchenko distinguished himself while carrying out repairs to the fleet's combat vessels. He surpassed the technical productivity norms by 200-250 percent and exhibited great powers of endurance while installing radar on his ship.
He is one of the best specialists among the hold machinists.
Captain of the battleship Sevastopol, Black Sea Fleet
Captain 1st Grade [Navy Captain] [signed] /Zinovyev/August 25, 1944″
The full translation of the research: Translation_Mishchenko