Description
Medal of Ushakov #5729
Awarded to Sailor Anti-Aircraft Gunner Petr Timofeevich Shemyakin (Петр Тимофеевич Шемякин)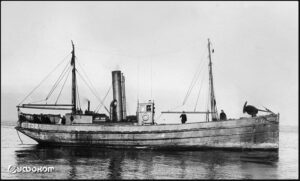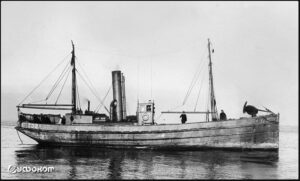 For spotting 16 enemy bomber aircrafts of which two attacked his motor boat. By opening concentrated machine-gun fire at the leading enemy aircraft he forced the enemy aircraft to abandon its bomb run and allowed the boat to initiate fully the combat counter-measures
Made of solid silver. Measures 35.99 mm in width, 48.21 mm in height including its eyelet and weighs 32.8 grams without its suspension. Featuring admiral Ushakov surrounded by 84 'pearls'. The serial number, "5729", is located on the reverse of the medal. The minimum known serial number is 9 and the maximum 15704.  
This Medal of Ushakov is in a decent but worn condition. There are several dings and scratches and the higher laying parts show medium wear although most details are still perfectly visible. Both sides show a light patina to the silver and its connection ring has been cut. The suspension and silver chain hanging diagonally on the suspension of medal are original and its ribbon appears to be time period.
Brief, concrete description of his feat of arms:
"During the period of the Patriotic war, sailor SHEMYAKIN served as an anti-aircraft machine-gunner on the patrol motor boat СКА-509. He participated in many motor boats missions: defended against the enemy air raids during the period 1941-1942 while patrolling the Iokanga harbour and water ways, and near Arkhangelsk during August – September 1942.
Comrade SHEMYAKIN steadfastly manned and maintained his battle station during the stationing in Murmansk during the period January – April 1943.
On 26 April 1942, while manning his battle station during a patrol tour, comrade SHEMYAKIN was the first to spot a group of 16 enemy bomber aircrafts. Two of the enemy aircrafts diverted from the group and attacked the motor boat. Comrade SHEMYAKIN reported immediately this to the boat commander and opened concentrated machine-gun fire at the leading enemy aircraft. Comrade SHEMYAKIN's well placed fire forced the enemy aircraft to abandon its bomb run and allowed the boat to initiate fully the combat counter-measures." 
Thanks to his vigilance and resourcefulness, the enemy air attack was successfully deflected.
Comrade SHEMYAKIN's courage and bravery inspires the rest of the motor boat crew for further combat feats. He is devoted to the cause of the Lenin-Stalin's party.
He deserves state award – medal "USHAKOV"."
The full translation of the citation can be read here
More information on Shemyakin can be found here
Please contact us with questions