Description
Soviet Medal of Ushakov #10898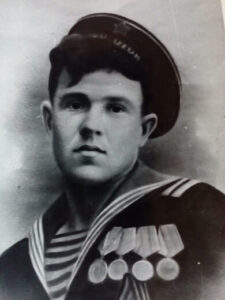 To electrician 3rd class Petr Yakovlevich Vasik (Петр Яковлевич Васик)

For bravery on the cruiser 'Molotov'
Made of solid silver. Measurements; 35.77 mm in width, 48.52 mm in height and it weighs 33.1 gram without its suspension. Featuring admiral Ushakov surrounded by 84 'pearls'. The serial number, "10898", is located on the reverse of the medal. The minimum known serial number is 9 and the maximum 15704.  
This Medal of Ushakov is a nice condition with medium wear on the higher laying parts. There are several dings and small scratches on both sides but most detals are still visible. The chain on its suspension is made of silver but not authentic to the medal.
Sailor Vasik scratched his name on the side of the bottom left part of the medal (see picture gallery).
Scarce piece!
Brief, concrete description of his feat of arms:
"Serving as a range-finder of the 37mm automatic gun battery, he was one of the first to spot the enemy and to provide precise targeting range data, this enabled the battery to deliver precise fire at the enemy aircrafts and the torpedo boats.
In the Feodosia operation, under enemy fire, sailor VASIK was the first to spot the enemy air raid and to report precise target range data. As the result of this effort, the very first salvo by the 37mm automatic guns destroyed one aircraft and another set ablaze.
He acted bravely under enemy fire during unloading of the ammunition to the land. When one of his mates was killed by the enemy fire, he didn't stumble and kept up the intensive work.
He deserves a state award – "USHAKOV" medal.
Captain of the cruiser "MOLOTOV", Black sea Fleet"
The full translation of the research: Citation
More information on Vasik can be found here
More info on the cruiser 'Molotov' can be found here
Sailor Vasik was in service until February 1948.The photo of Stalin visiting the cruiser "MOLOTOV" is from 1947 (last image in the picture gallery). So theoretically Vasik might be seen on the background.