Description

Order of the Red Star #707648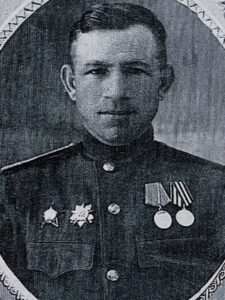 Awarded to Lt. Grigory Stepanovich Chernobrovkin (Григорий Степанович Чернобровкин) 
For destroying over 50 Romanian soldiers with his company the 25th of April 1944 despite strong fire of the enemy
Made of silver and enamels. Measures 50.03 mm in width, 48.17 mm in height and weighs 31.5 grams. The mint mark is located above, and the serial number underneath the screw post.
This order is in excellent, well above average condition with most details visible and crisp. The enamels are well preserved and only shows some small contact marks only. Both sides show and appealing patina and its screw has not been shortened. The order comes with its time period and well fitted screwplate.
A brief, specific statement of personal combat feat or merit:
In battles with the German invaders, Comrade Chernobrovkin repeatedly showed fearlessness and courage. He especially distinguished himself on April 25, 1944, when the enemy, after a powerful artillery preparation, launched an attack on our units. Comrade Chernobrovkin, being directly in the combat formations of the rifle companies, despite the strong fire of the enemy, skillfully organized the machine-gun fire of his company and, letting the enemy close, destroyed over 50 Romanian soldiers.
With his skillful, courageous and decisive actions, Comrade Chernobrovkin contributed to the successful repulsion of the enemy attack, as a result of which the enemy was driven back to their original positions, having suffered heavy losses in killed and wounded.
Commander of the 764th Infantry Regiment
Lieutenant colonel (signature) /Klibanov/ 07/06/1944
More info on Lt. Chernobrovkin can be found here
A nice picture of Lt. Chernobrovkin wearing his Order of the Red Star can be found on top of this page and in the picture gallery
Please contact us with questions