Description



Soviet Order of the Red Star #1082914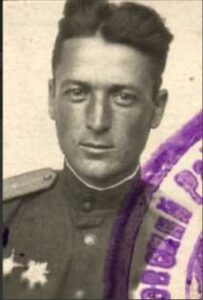 Awarded to Sr. Lieutenant Nikolay Pavlovich Dzyuba (Николай Павлович Дзюба)
For taking part in numerous offensive and defensive combat engagements and suppressing 4 enemy firing positions and repelling 3 enemy counter-attacks
Made of silver and enamels. Measures 49.78 mm in width, 47.62 mm in height and weighs 30.9 gram without its screwplate. The serial number is located at the 6 o'clock position and the mint mark on the 12 o'clock position of its reverse.
This Order of the Red Star is in excellent, well above average condition. The details are mostly visible although the higher laying parts like the soldiers hands show light wear. The enamels are beautiful and show some contact marks only. Its screwpost has not been shortened and there have been no repairs. It comes with its time period screwplate which fits ok but is a bit wobbly.
Short excerpt and translation of the research:
He took part in numerous offensive and defensive combat engagements against the German invaders. On the Vytebsk sector, he commanded a mortar company, which suppressed 4 enemy firing positions and helped the rifle units to fend off 3 enemy counter-attacks.
He deserves state award order "RED STAR".
At present, he is in active duty in the unit.
The full translation can be found below:
More info on can be found here
Also in the picture gallery is a map of the 1270th Rifle Regiment in November 1944
Please contact us if you have additional questions regarding this item