Description



Order of the Red Banner #76854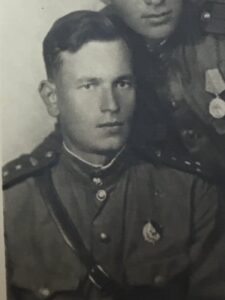 Awarded to T-34 Tank Commander Captain Taras Fedorovich Bevz (Тарас Федорович Бевз)
For combat operations during 07-11 August 1943 near the settlements Risavy and Nasonovo where his tank destroyed 3 anti-tank guns and their crews, 1 mortar battery and its crew, 1 pillbox, 2 light machine-guns and their crew, and up to a platoon of enemy troops
Recommended for the Order of Lenin!

Made of silver and enamels. It measures 41.48 mm in height, 37.16 mm in width and weighs 24.7 gram without its screwplate. The serial number and mint mark are located at the 6 o'clock position of its reverse. The minimum known serial number in this range is 67729 and the maximum 79807.
In superb, well above average condition. The details are fully present and even the higher laying parts like the center wreath shows light wear. Both the red and white enamels are stunning and without repairs with some small contact marks only; extremely rare for a screwback order of the Red Banner! Most of the gold plating is still present and its screwpost has not been shortened. It comes with its time period and well fitted silver screwplate.
This order has it all. Great research to a tank commander, in outstanding condition and recommended for the order of Lenin. Extremely hard to find! 
Brief, concrete description of his feat of arms or achievements:
"In the regiment combat operations during 07-11 August 1943 near the settlements Risavy and Nasonovo, he distinguished himself by his efficient and prompt command style of his tank company. BEVZ and his tank crew destroyed 3 anti-tank guns and their crews, 1 mortar battery and its crew, 1 pillbox, 2 light machine-guns and their crew, and up to a platoon of enemy troops.
Comrade BEVZ inspired the sappers by personal example for restoration of the crossing site over the river Uzhrept, and thus expedited the advance of his tanks. As the result of the combat operations of the regiment near the settlements Risavy and Nasonovo during 07-11 August 1943, comrade BEVZ's tank company destroyed: 4 pillboxes, 1 enemy tank dug into the ground, 2 mobile anti-tank guns on caterpillar tracks with their crews, 7 machine-gun emplacements and their crews, 2 ammunition depots, and up to a company of enemy troops; also suppressed 2 artillery and 2 mortar batteries.
On 14 August 1943, in the combat engagement for the village Vetitnevo, he sustained a contusion, but remained on the battlefield and continued his combat mission. His combat feats deserve him to be bestowed with order "LENIN"."
The full translation of the citation can be read here
More information on Captain Bevz can be found here
Also included in the picture gallery are:
two scans of images of Capt. Bevz -one of which shows him this very same Order of the Red Banner-,
the combat diary of the 187th Separate Tank Regiment (187STR) in August 1943
a map of the 187STR 68th Army in August 1943 near Nosonovo
3 documents on the history of 187STR
Please contact us with questions