Description
Soviet Order of the Patriotic War 2nd class #693798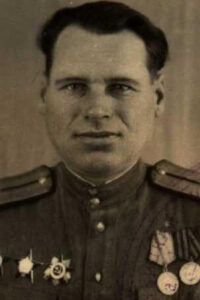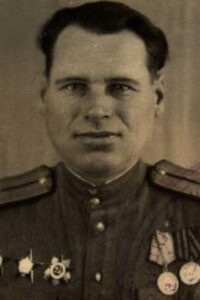 Awarded Sr. Lieutenant Terentij Grigorievich Romanenko (Терентий Григорьевич Романенко)
For providing reliable wire and radio links despite complicated combat environment and thus ensured effective governance and effective fire in the required sector on the battlefield
Made of solid silver, gold and enamels by the Krasnokamsk Mint (KMD). The order measures 44.60 mm in width, 46.52 mm in height and weighs 26.9 gram without its screwplate. Its serial number and mint mark are located on the bottom of its reverse.
In nice overall condition with all its details still visible and a medium patina to the silver on both sides. The red and white enamels show several dings and scratches and a superficial chip on the top ray but are without repairs. A fair amount of the gold plating on the lettering and edges of the 5 pointed star is still present. The order comes with its original, time period screwplate and its screw has not been shortened.
Brief description of his feat of arms or achievements:
Comrade ROMANENKO performed the duties of the head of the signalling service of the squadron during the period from 26 April till 08 May 1945 in the enemy defence breakthrough operation against the German-Fascist invaders near the the town Moravská Ostrava, as well as in the operation for liberation of the towns Bílovec, Stadt-Liebau, Olomouc. He managed to provide reliable wire and radio links despite complicated combat environment. This effort ensured effective governance and effective fire in the required sector on the battlefield.
During the combat period, he organised efficient repair of the malfunctioning and damaged by enemy artillery fire communication equipment. In this task, he exhibited reasonable wit and resourcefulness. He himself was constantly present in the combat formation of the squadron, provided direct practical help, and led by personal example, inspiring the others for combat feats.
For excellent execution of the combat objectives assigned by the command, he deserves to be bestowed with order "PATRIOTIC WAR II CLASS".
More info on Lt. Romanenko can be found here
Also included the picture gallery is a picture of Lt. Romanenko wearing this Order of the Patriotic War, a map 242nd Rifle Division near Olomouc [Czech] of April 1945 and a scheme of positions of 242RD on 16 April 1945 
Please contact us with questions