Description
Soviet Order of the Patriotic War 2nd class #786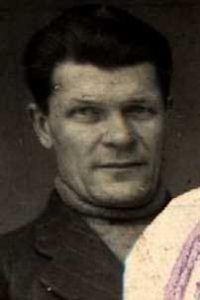 Awarded to Senior Lieutenant Andrei Georgiyevich Minakin (Андрей Георгиевич Минакин)
Deputy commander for political affairs
"Awarded for inspiring the troops and commanders through personal example in the most dangerous combat areas and for personally killing more than 15 fascists."
Made of solid silver and gold. It measures 42.32 mm in width and 46.63 mm in height; including the eyelet. It weighs 26.9 gram without its suspension. The serial number is located at the 7 o'clock position on the reverse. This early variation exists of five parts: the base piece, portraying a rifle and a sword; a 5 armed enameled red star; a solid gold hammer and sickle; a suspension and a stickpin. The minimum known number of this first type is 1 and the maximum known number is 2350.
This original order of the Patriotic War 2nd class is in nice, above average condition. All details are perfectly visible and even the higher laying parts like the hammer and sickle show little wear. The white enamel is pristine without any flaking. The red enamel on the 12 and 3 o'clock ray of the red star has been replaced which is usually the case with early suspension orders. The enamel on the other rays and at the center is problem free and in excellent condition. The suspension is a replacement, possibly of a later variation. The old, type 1 suspensions were very vulnerable and it might have been replaced by the awardee himself after it was broken off. This seems especially plausible since the order was never been converted. The stickpin is original as is the eyelet.
Very rare piece with very interesting research.
Brief, concrete description of his feat of arms or achievements:
"Between January 29, 1943 and February 5, 1943, during the fighting with the German-fascist invaders near the village of Sinyavino, comrade A.G. Minakin displayed bravery and courage. Comrade Minakin put a great deal of effort into explaining the significance of these battles and the key role the communists play in battle, as a result of which the battalion was able to successfully accomplish its combat mission of capturing the Kvadratnaya grove and reaching the main road. Comrade Minakin was almost continuously present among the ranks of the battalion and personally took part in fighting off 12 enemy counterattacks, inspiring the troops and commanders through personal example in the most dangerous combat areas. During these battles he personally killed more than 15 fascists. During rare lulls in the fighting, under heavy enemy artillery shelling, he put a great deal of effort into clarifying events to the men. He deserves the Order of the Patriotic War 2nd Class."
The full translation of the research: Translation_Minakin
More info on Minakin can be found here
Please contact us if you have questions regarding this item