Description
Order of the Patriotic War 1st class #21928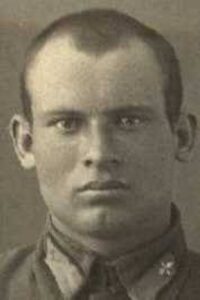 Awarded to pilot and Guards Lieutenant Aleksander Egorovich Lyapkov (Александр Егорович Ляпков)
For flying 108 combat sorties of which 96 were night missions. In September 1943 he successfully bombed a railway station in the town of Gomel and in October 1943 he destroyed several rail wagons with ammunition when on a mission against the rail station Dolinskaya
Made of solid gold and silver. The medal itself measure is 42.60 mm in width, 47.78 mm in height including its eyelet and it weighs 27.8 gram without its suspension. The serial number is located at the 7 o'clock position of its reverse and a 'B' and a '1' (often referred to as 'makers mark') are respectively found on the gold and silver parts on its reverse. The original suspension was removed and replaced with a new one which is not authentic to the order.
Despite the fact that the suspension has been replaced, the order id in nice overall condition. The white enamels are problem free without flaking or repairs as are the red enamels in the center circle. The enamels on the 12 o'clock ray of the red star have been repaired which is often the case with these early suspension type awards. The details on the higher laying parts like the hammer and sickle are well defined and the serial number is perfectly visible.
Scarce piece with extensive research to a pilot
Brief, concrete description of his feat of arms or achievements:
"He has been serving in the field forces since 24.06.1941 and been flying in the crew with bombardier Gu. Lt. PODOLSKY and gunner radio operator Gu. Sr. Sgt. DOLINSKY. During the course of the Patriotic war, he conducted 108 combat sorties, of which 96 were night missions. In the long range aviation corps, he made 97 sorties, of which 96 we night missions. Total flying time is 830 hours (509 day light hours and 321 night time hours). After this previous award, he conducted further 75 night missions. He flew air strikes against the enemy front line positions making 2 missions per night and was always successful in the missions. He is very enthusiastic to fly combat missions. On 07 September 1943, he was on a mission against the rail junction in town Gomel and his precise bomb strike caused 3 fires burning with red flame. On 22 October 1943, he was on a mission against the rail station Dolinskaya and with a direct bomb hit set on fie several rail wagons with ammunition.
For successful execution of the combat missions on the front of struggle against the German Fascist invaders, he deserves to be bestowed with order "PATRIOTIC WAR I CLASS"."
The full translation of the citation can be read below:
More info on Lt. Lyapkov can be found here
Also in the picture gallery are:
2 (or 3) images of Lt. Lyapkov
drawing/diagram of airfields of the 9th Guards aviation regiment of July 1944
lists of the crews of 9th Guards aviation regiment on 29 February 1944
images of the strike at Bălăbănești of the 9th Guards aviation regiment
images of the veteran reunion of the 9th Guards aviation regiment in Poltava
Please contact us with questions