Description
Researched Soviet Order of Suvorov 3rd class #10489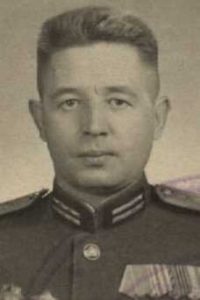 This order of Suvorov has been awarded to Guards Major Aleksei Georgiyevich Lyusin (Алексей Георгиевич Люсин)
Made of solid silver and enamels. Measures 50.28 mm in width and weighs 25.4 gram. The serial number and the mint mark Monetni Dvor are located on its reverse. The minimum known serial number for this variation is 2142 and the maximum is 12247.
This original order of Suvorov is in excellent condition with flawless enamels. Most details are visible and the higher parts of the order show little wear. There have been no repairs and the screwpost has not been shortened. Both sides show few dings and scratches and the order comes with its time period silver screwplate.
An excellent and rare piece with interesting research!
Short Brief, concrete description of his feat of arms or achievements:
"On January 14, 1945, during the preparatory period prior to the operation aimed at breaching the German defenses on the western bank of the Vistula River, all planning documents were promptly passed on to their executors, a task overseen by regimental chief of staff comrade Lyusin, in the sector of the 629th Rifle Regiment (91st Rifle Corps, 69th Army) near Piskorów and Pająków. Under his supervision, execution of orders and instructions from parent staffs was verified, with all detected shortcomings being negated and rectified on the spot.
During the operation to breach the German defenses on January 14, 1945, comrade Lyusin developed said breakthrough operation alongside the regimental commander, and along with an infantry commander he supervised the execution of the regiment's firing missions, thus ensuring a breakthrough in the sector of the 629th Rifle Regiment, which the mortar regiment supported, and enabling it to push forward.
During the pursuit of the retreating enemy troops, comrade Lyusin and the regimental commander were continuously present among the frontline ranks of the infantry, where comrade Lyusin in a hands-on fashion saw to it that the infantry regiment commander's firing missions were carried out.
The enemy put up stiff resistance near Florianów and Chechły and launched a counterattack. Along with the commander of the infantry regiment, comrade Lyusin prepared firing missions, as a result of which the enemy counterattack was fought off. In the process, up to 2 platoons of submachine gunners were killed and the fire of 2 enemy mortar batteries was suppressed.
This enabled the infantry to advance.
Prior to the start of the regiment's combat operations, comrade Lyusin was stationed at the regimental commander's observation post, where he was involved in adjusting the battalions' mortar fire."
Below you can find the full translation of the research:
Please contact us with questions regarding this object