Description

Group of the Order of Glory 1st, 2nd and 3rd Class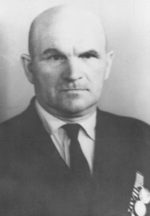 Awarded to Semenovich Pisklov (Александр Семёнович Писклов)
The group consists of the following items:
Order of Glory 1st class #363 This order is in excellent condition with problem free enamels and most details present
Order of Glory 2nd class #8198 Much of the gold plating is lost due to wear. Hoever, all details are present and the enamels are problem free
Order of Glory 3rd class #177443 In nice condition but it shows some small enamel chips on the lower banner
Medal for Victory over Germany
Biography:
Alexander Semenovich Pisklov was born into a peasant family in the village of Soldatskoye Graivoronsky district of the Kursk province (now the Rakityansky district of the Belgorod region). Before the war he worked at the Kharkov Tractor Plant. Since 1932 to 1934 he served in the Red Army.
In February 1943, the Rakityan District Military Committee again drafted him into its ranks. Since March 17 1943 he was fighting for the USSR in the Great Patriotic War.
In the battles on the outskirts of the city of Debitsa Sergeant Pisklov mastered his weapon with precision and he destroyed two machine-guns, an anti-tank gun, an observation post and a platoon of enemy soldiers, thus facilitating the capture of the city by rifle divisions.
On order of the 336th Infantry Division on September 3 1944, he was awarded the Order of Glory 3rd class.
On the night of October 8 1944 Sergeant Pisklov, when counterattacking the enemy in the area of ​​the city of Busko-Zdroj with fierce gun fire, killed about 40 enemy soldiers and officers. The attack was drowned, and the enemy was thrown back. Order on the 60th Army of November 30 1944, he was awarded the Order of Glory, 2nd class.
Sergeant Pisklov was hit by a heavy tank and self-propelled gun on February 20 1945, in the battles on the western bank of the Oder River near the Eikhendorf-Mule settlement (Brzeznica, 6 km north of the city of Raciborz) . Even so, 11 attacks of tanks and infantry were repelled.
By decree of the Presidium of the Supreme Soviet of the USSR of June 19, 1945, he was awarded the Order of Glory 1st class.
Senior Sergeant Pisklov took part in the Victory Parade on Red Square on June 24 1945.
Senior sergeant Pisklov was demobilized in November 1945. He worked as an electrician at a power plant and he lived in the village of Petrovsky.
Alexander Semenovich Pisklov passed away on June 29, 1980.
Links to stories on Pisklov can be found below: