Description
Order of Alexander Nevsky #22427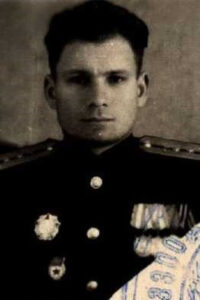 Awarded to Senior Lieutenant Petr Ivanovich Filchagin (Петр Иванович Фильчагин)
For rushing into the enemy trench near Stanislawowo and clearing it from the enemy, being among the first to enter into the town of Modlin where he personally eliminated 9 enemy troops and for capturing 17 German soldiers with his squad when entering the town of Thorn shortly after
Made of solid silver and enamels. Measures 50.20 mm in height, 49.40 mm in width and weighs 39.1 grams without its screwplate. The serial number and the mint mark Monetni Dvor are located at the 6 o'clock position underneath the screw.
In decent condition with most details on Nevsky's head visible and medium overall wear. Some of the gold plating on the raised areas like the poleaxes, sword and arrows is still present although much of the gilding on the wreath is worn off. The enamels are problem free apart from a crack and a superficial chip on the 12 o'clock ray of the red star. Its screw has not been shortened and there have been no repairs. The order comes with its time period silver screwplate.
Brief, concrete description of his feat of arms or achievements:
On 14 January 1945 near the settlement Stanislawowo, he and a squad of submachine-gunners rushed the forward enemy trench line and cleared it from the enemy. Pursuing closely the enemy, they entered Stanislawowo and swept it clear off of enemy. On 17 January 1945, he was among the first to enter into town Modlin and personally eliminated 9 enemy troops. During the whole combat period from 14 January till 01 February 1945, he exhibited courage, bravery, and boldness of action. He was on the spearhead of the regiment troops advance, providing reconnaissance and clearing the suspicious locations. On 01 February 1945, he and a squad of submachine-gunners entered town Thorn and captured 17 German soldiers.
I recommend comrade FILCHAGIN to be bestowed with order "RED BANNER".
The full translation of the research can be read here
More info on Lt. Filchagin can be found here
Also included in the pciture gallery are two pictures of Lt. Filchagin, one of which shows him wearing this Order of Nevsky, the combat diary of the 136th Rifle Division in January 1945, two battle maps of the 269th Rifle Regiment near the town of Modlin on 17 January 1945 and of Thorn on 28 January 1945 and a map Stanislawowo 
Please contact us with questions