Description

Researched Soviet Order of Alexander Nevsky #11569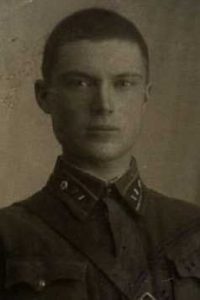 Awarded to Major Fyodor Ivanovich Dmitriyev (Федор Иванович Дмитриев)
Commanding officer of the 1st Rifle Battalion
For exceptional bravery and rushing into the tranches in front of his men! 
This order of Alexander Nevsky is made of solid silver and enamels. Measures 51.11 mm in height and 49.12 mm in width. It weighs 45.46 gram. The serial number and the mint mark Monetni Dvor are located at the 6 o'clock position underneath the screw. Dmitriyev also received a Red Banner and an Order of Bogdan Khmelnitsky.
The order is in near perfect condition with all details crisp. Even the higher laying parts have no wear. The red enamel is problem free and shows only some microscopic scratches. The gold plating on the wreath, sword and arrows is all present as is the gilt on the pollaxes. The order shows no repairs and the screwpost is full length. It comes with its time period silver screwplate.
A beautiful piece with interesting research!
Short Description of his feat of arms or achievements:
"On June 23, 1944, during the breakthrough of the German defenses near the village of Kazanovy and height 160.4, he was personally stationed among the ranks of his battalion. He was the first to rush into the enemy's trenches, inspiring his men to follow him and carry out their combat orders. With his machine gun he killed approximately 15 Germans. Having overcome three lines of trenches, he successfully pursued the enemy toward the village of Dubrovskoye; covering a distance of more than 40 kilometers in a 24-hour period and in doing so inflicting heavy losses upon the enemy; more than 280 German soldiers and officers were killed 115 men were taken prisoner, and 25 vehicles, 15 bicycles, 7 motorcycles, 5 artillery pieces, 3 ammunition depots, 30 horses, and a lot of other military equipment were destroyed or captured from the enemy.
During the pursuit he personally overtook a staff artillery piece, killed its crew along with the officer, and captured this gun and two horses. With an antitank rifle he personally set the first vehicle of an enemy column on fire; as a result of which the column could not move and was destroyed. Through his military skill and his prowess in warfare he was able to inflict significant losses upon an enemy possessing superior forces."
Below the full translation: