Description
Soviet Medal of Ushakov #14037
To Petty Officer First Class Dmitry Terentyevich Khomyak (Дмитрий Терентьевич Хомяк) 
For taking part in crushing the Germans at Leningrad, suppressing Finnish fortifications on the Karelian Isthmus and warding off an enemy air strike while being at service on the cruiser battleship 'Kirov'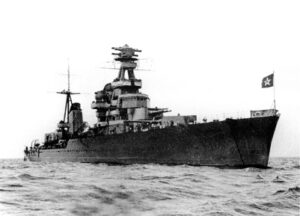 Made of solid silver. Measurements; 35.75 mm in width; 48.38 mm in height. Weight; 32.7 gram without its suspension. Featuring admiral Ushakov surrounded by 84 'pearls'. The serial number, "14037", is located on the reverse of the medal. The minimum known serial number is 9 and the maximum 15704.  
This Medal of Ushakov is in nice condition. There are several dings and small scratches and the higher laying parts show medium wear although most details are perfectly visible. All parts of the suspension are original and time period including the silver chain, the ribbon and the double layer steel suspension itself. Its connection ring has not been cut.
The ribbon of the medal has seen better days but we prefer to leave the medal as it is. Not only because it is original to the medal but also because it adds lots of character to the award. However, on request we can deliver a new ribbon for free.
Scarce piece with research to the famous cruiser 'Kirov'!
Brief, concrete description of his feat of arms or accomplishments:
"Petty Officer First Class Dmitry Terentyevich Khomyak is a disciplined team leader aboard the ship. During the Great Patriotic War he showed himself a brave and courageous soldier. He was assigned the main calibre gun division as his battle station, maintaining communications in the second turret. Despite artillery shelling and even though the cruiser was bombed, he kept his composure and accurately passed on orders coming in from the bridge to the turret commander, owing to which the turret struck German tanks and troops near the city of Tallinn in 1941 with great precision.
On April 24, 1942, during a massive enemy air strike on the cruiser, the men of the antiaircraft division were taken out of action. Comrade Khomyak left his turret to take up the positions of those who had died in the antiaircraft division. He was actively involved in warding off the air strike, and during a fire at the 100-mm battery he put out the fire and threw the burning ammunition overboard. Through his conduct he inspired the men to fight the fires and repel the aerial attack.
When assigned to the 2nd turret of the main calibre gun division, comrade Khomyak took an active part in crushing the Germans at Leningrad, as well as in suppressing Finnish fortifications on the Karelian Isthmus in June 1944."
The full translation of the research: Translation_Khomyak