Description
Soviet Medal of Ushakov #6084
To Senior Sailor Oleg Vladimirovich Trofimov (Олег Владимирович Трофимов)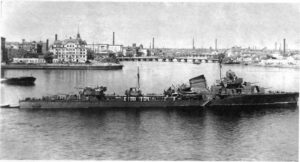 For bravery on the destroyer 'Grozyashchy'
Made of solid silver. Measurements; 36.06 mm in width, 48.92 mm in height and it weighs 31.8 gram without its suspension. Featuring admiral Ushakov surrounded by 84 'pearls'. The serial number, "6084", is located on the reverse of the medal. The minimum known serial number is 9 and the maximum 15704.  
This Medal of Ushakov is in excellent condition. There are several dings and small scratches and the higher laying parts show light wear although the details are perfectly visible. All parts of the suspension are original and time period including the silver chain, the ribbon and the double layer steel suspension itself. Its connection ring has not been cut.
Scarce piece!
Brief, concrete description of his feat of arms:
"He took active part in all the ships combat missions since the first days of the Patriotic war. When the ship struck a mine, he selflessly fought for the vessels and equipment survivability. With his courageous and proactive effort at the main damage area, he quickly restored the electrical lighting and the electrical water pumps functions.
When an enemy bomb hit the vessel and ignited fire, he exhibited exceptional bravery. Risking his life, he fought the fire until it was finally put out. In other combat missions, he excellently operated and maintained functions at his combat station. During ship maintenance works, his exceptionally skilful, proactive, and persistent effort assured completion of tasks by 200%-300% over the planned goals, while maintaining excellent quality of repairs."
The full translation of the research: Citation
More info on the Destroyer 'Grozyashchy' can be found here