Description
Documented group of an early Order of Lenin and a Red Banner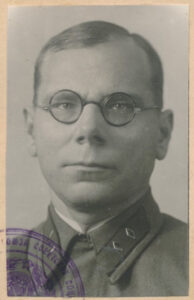 Awarded to NKVD Colonel Andrei Ivanovich Chudakov (Андрей Иванович Чудаков)
Head of the Political Department of Dnepropetrovsk Red Banner Artillery School
The group consists of the following items:
Order of Lenin #12075
Made of solid gold, platinum and enamels. Measures 39.96 mm in height (including the top of the flag pole), 38.37 mm in width and weighs 36.1 gram without its screwplate. The mint mark Monetni Dvor and the serial number are located at the reverse. This is a scarce screwback variation which were awarded before June 1943. The lowest known serial number for this variation is #6372 and the highest known number is #13378. About 7,000 of these were awarded. 
This original order is in excellent but converted condition with crisp details. Even the higher laying parts of Lenin's face show little wear. Its enamels are extremely well preserved for this early type and have some minor flaking and corrosion only; much better than average for this type. The reverse shows some small dings and scratches only.
It appears this screwback was convereted by the Soviet mint to one with a suspension device due to the 1943 regulations on wearing Soviet awards. Such a conversion is sometimes referred to as a 'Dove Tail' or Swallow Tail' after the shape of the replaced top part. This later added eyelet by the mint was removed again most likely in the 1990's. Probably done by the same person who extended the shortened screw. 
Order of the Red Banner #148396
Made of silver and enamels. Measures 46.24 mm in height, 38.13 mm in width and it weighs 26.5 gram without its suspension. The mint mark Monetni Dvor and the serial number are located on the 6 o'clock position of its reverse.
This Red Banner order is in pristine condition with perfect enamels. Even the higher laying parts such as the center wreath and the torch have crisp details. There have been no repairs and the double layer suspension is time period to the order. Its connection ring has not been cut.
Award Booklet
The award booklet (numbered 220704) mentions the awardee's name and the two awards above. Also in the booklet is another Order of Lenin which unfortunately is missing. The booklet is in excellent condition with all pages firmly attached and contains an original picture of Colonel Chudakov.
A wonderful group with a rare Order of Lenin to a NKVD officer. Rare as such!
Because this awards are NKVD awards it is not likely much information will be found in the archives. However, it has become clear Colonel Chudakov received the Order of Lenin in this listing for his work as the head of the Political Department of Dnepropetrovsk Red Banner Artillery School. The Order of the Red Banner was awarded for long service.
The translation of the register card be found here
More info on Colonel Chudakov can be found here
Please contact us with questions