Description
Supreme Soviet of Estonia membership/ deputy badge (screwback variation) #30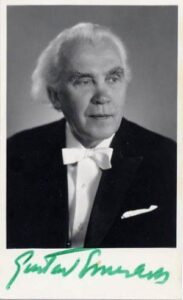 To Gustav Ernesaks who composed the Estonian SSR anthem
Made of solid silver and enamels. It measures 26.11 mm in height (flagpole), 30.02 mm in width and it weighs 11.7 gram. The reverse shows two silver hallmarks 'T33' & '916', its engraved serial number '30' and 'VI' for the 6th convention.
The badge is in nice condition with all details crisp and light overall wear. The white and blue enamels are fully present without damage and the red enamels show small chipping on the right side of the hammer and sickle. Its screw has not been shortened and the badge comes with its original and well fitted silver screwplate which is marked '916'.
Its accompanying document is in good condition and is dated 1963. It includes its laminated pass.
Gustav Ernesaks was highly decorated with several soviet awards among which 2 Stalin Prizes, a Lenin prize, Hero of Socialist Labor and 3 Orders of Lenin 
Information on Gustav Ernesaks can be found here and here
(Anthem composed by Ernesaks)
Please contact us with questions