Description



Order of the Red Star #24274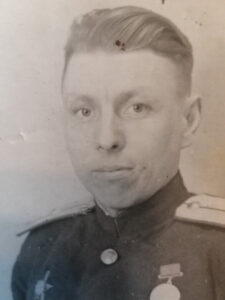 Awarded to Jr. Sergeant Dmitry Andreevich Mironov (Дмитрий Андреевич Миронов)
For exhibiting courage during the early days of the war, evacuating numerous wounded soldiers from the battlefield and providing medical assistance under enemy fire. Later, he displayed exceptional valor by returning to the battlefield to rescue a wounded comrade who had been left behind 

Made of silver and enamels. The order measures 48.63 mm in width, 47.14 mm in height and weighs 29.9 grams without its screwplate. The serial number is located at the 6 o'clock position and the mint mark on the 12 o'clock position of its reverse. The mark is located at the base of the upper ray of the star. The word "COIN" is rounded in an upward arc (hollow). The minimum known number for this subvariation is 16746 and the maximum is 24275.
In decent overall condition with medium wear to raised parts of the silver medallion. Most details are still visible and both sides show relatively few dings and scratches. The 3 and 5 o'clock rays of the red star have replaced enamels. This is done with epoxy but rather nicely and not easy to see for the untrained eye. The other rays are without repairs or damage. Its screwpost is full length and the order comes with its time period and well fitted silver screwplate.
A very early wartime award with interesting research
Brief, concrete description of his feat of arms or achievements:
He has been participating in the combat struggle against the Fascist Germany from the first days of the war as a medic of a rifle battalion. In the combat engagements, he proved himself as a brave and courageous medical instructor, who selflessly saved the wounded from the battlefield and rendered them medical aide. On 13 August 1941, in a battle for defending the crossing over the river Bug, comrade MIORNOV and his medical squad remained in the areas of combat deployment of the rifle troops. Acting under enemy fire, he pulled the wounded from the battlefield and rendered medical aide. When our troops were forced to retreat, comrade MIRONOV ensured, that all the wounded (11 men) were evacuated by him.
On 05 September 1941, in the battle near the khutor "Krasnij Podol" (Kahovka district), our rifle battalion main force retreated, but later our scouts reported one wounded being left behind. Comrade MIRONOV went back and carried the wounded from under intensive enemy field of fire. In the whole combat period, comrade MIRONOV evacuated 27 wounded from the battlefield, which was sone apart from his main engagement on the main battalion level medical point.
More information on Mironov can be found here
Also included are two scans of an image of Mironov which shows him wearing this Order of the Red Star and a battle map of Krasnij Polog on 27 August 1941
Please contact us with questions