Description



Soviet Order of the Red Banner Duplicate #42268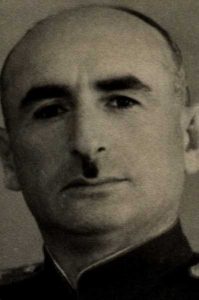 Awarded to Colonel Shalva Yevstafyevich Tskhovrebashvili (Шалва Евстафьевич Цховребашвили)
Made of solid silver and enamels. Measures 44.91 mm in height and 36.38 mm in width. It weighs 25.8 gram. The serial number and mint mark are located at the 6 o'clock position of its reverse.
This original Duplicate Order of the Red Banner is in a great, well above average condition. The details are crisp and the enamel only shows some minor flaking, not penetrating the silver. The gold plating is also present and the reverse is in perfect condition with no dings or scratches. The old serial number has been erased and a new number was re-engraved by the mint. This was done in a very distinctive recognizable style. The connection ring has not been cut and the double sided steel suspension is time period to the award.
Duplicate awards were (rarely) given to awardees who lost their award due to exceptional circumstances beyond their control like combat or natural disasters.
Brief, concrete description of his feat of arms or achievements:
"During the offensive operations the Division's artillery supported the advancing units without interruptions. Despite the large number of attached artillery units (more than 3 heavy ones and 2 rocket launcher battalions), fire direction was planned well. The Division's position on the flank imposed a further task upon the artillery, but the artillery staff and Colonel Tskhovreboshvili handled this task brilliantly. Colonel Tskhovreboshvili acted not only as an artillery commander, but repeatedly oversaw crucial combat operations conducted by rifle units as well. When the fortified line on the Foshnya River was being breached and the strong enemy pockets of resistance at Ivan Pervaya, Ivan Vtoraya, and Belozyorovka were being captured, Colonel Tskhovreboshvili was present among the frontline rifle units, personally overseeing the operations and coordinating the units' actions. "
Full translation of the research: