Description
Soviet Order of the Red Banner #497314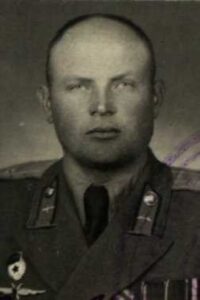 Awarded to Lt. Col. Nikolay Titovich Sadovnichy (Николай Титович Садовничий)
Sadovnichy was in service in the Polish Air force under Soviet command for which he also received several Polish awards (3x Cross of Merit and a Medal of Victory and Freedom)
Made of solid silver and enamels. Measures 44.94 mm in height, 36.24 mm in width and weighs 25.4 gram without its suspension. The serial number and the mint mark Monetni Dvor are located at the 6 o'clock position of its reverse.
In near mint condition with full gold plating and a medium patina on both sides. Even the higher parts on the obverse show virtually no wear and all its details are all perfectly crisp. The red and white enamels are beautiful and extremely well preserved without dings or scratches. There are no repairs and the order comes with its time period double layer steel suspension and uncut connection ring.
Its accompanying order booklet in excellent condition with all pages firmly attached and mentions a Red Star and two Medals for Combat Merit next to this Red Banner.
More information on Sadovnichy can be found here
Please contact us with questions