Description

Soviet Order of the Red Banner 2nd award #3035 Reissue Award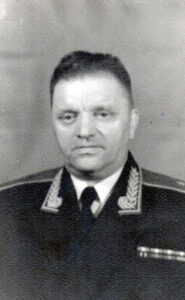 Awarded to General Major Vladimir Leonardovich Olshansky (Владимир Леонардович Ольшанский)
"For exemplary performance of combat missions"
Order of the Red Banner 2nd award: Made of silver and enamels. Measures 37.48 mm in width and 45.21 mm in height and weighs 24.0 gram without its suspension. The mint mark is located above the serial number in one straight line.
This original order is in excellent, far above average condition with all details crisp. The red enamel on red enamel is beautiful and without repairs and only has a tiny superficial chip on top of the large banner, barely noticeable with the naked eye. The orders shows an attractive light patina and almost all of the gold plating is still present. Its connection ring is uncut and the double layer steel suspension is time period to the order.
Reissue awards were given by the Soviet Government to a recipient, as a replacement piece, in exchange for the same order or medal of an earlier type which was no longer authorized for awarding by new regulations. The new reissue piece retains the serial number from the original award piece. Many early suspension or screwback awards were exchanged for the new type of award, particularly during the period immediately following the end of the Great Patriotic War. During the June 1945 Victory Parade in Moscow following the defeat of Germany in World War Two, soldiers participating in the Parade were expected to have the latest type of award on their uniforms and undoubtedly many were exchanged for that parade. These pieces are extremely rare.
A beautiful piece to a real Soviet General!
The translation: – Register Card OLSHANSKY
More info on General Olshansky here
Article from the military newspaper 'Red Star' mentioning the degree on page 2: Krasnaya Zvezda
Please contact us with questions!