Description
Soviet Order of the Patriotic War 2nd class #24267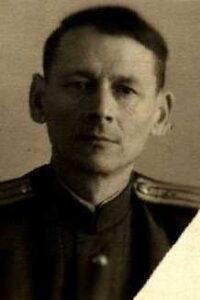 Awarded to Lt Col of the Medical Service Mikhail Antonovich Shmagin (Михаил Антонович Шмагин)
Recommended for the Order of Lenin
For treating thousands of wounded soldiers and commanders

Made of solid silver and gold. The main medal measures 43.21 mm in width, 47.94 mm in height including the eyelet and it weighs 25.7 gram without its suspension. The suspension measures 32.54 mm in width at its widest point and 21.57 mm in height at its narrowest part (without eyelet). The minimum known number of this variation is 12655 and the maximum known number is 32653.
This order  is in an excellent, far above average condition. Its details are all crisp and even the higher laying parts like the hammer and sickle show light wear only. The enamels are beautiful and problem free apart from the red enamel on the top ray of the red star which has been repaired. The reverse shows even less wear with beautiful details and an appealing lusture. The suspension and screwplate belonong to the medal and have all parts original. Its connection ring has not been cut.
Scarce to find in this condition!
Brief, concrete description of his feat of arms or achievements:
"Comrade M.A. Shmagin serves with Evacuation Hospital nr. 3635 as chief surgeon. Having undergone advanced surgical training, he performs the most difficult operations on vessels and knee and hip joints to treat hip fractures, thorax fractures, etc.
Additionally, he devotes exceptional attention to treating lightly wounded men, employing various sorts of exercise therapy, as a result of which those with hand wounds who have suffered bone damage are leaving the hospital as healthy men and are returned to their units within 18-20 days.
During the Patriotic War comrade Shmagin has handled thousands of wounded soldiers and commanders. As a result of his skillful surgical interventions, many hundreds of them, who were suffering from the severest of wounds and on the brink of death, were saved.
This is why comrade Shmagin has received many letters of gratitude from wounded men who are now once again serving on the front line and in the rear.
Comrade Shmagin passes on his extensive surgical knowledge to the hospital's doctors. During the Patriotic War he has taught 6 of the hospital's doctors how to independently perform such surgeries as amputations of extremities, difficult incisions, vasoligations, thoracotomies, treatment of gas infections, etc. Under his supervision all of the hospital's doctors were taught how to perform blood transfusions by means of intravenous infusions. The vast majority of nurses, both those of our hospital and those of other ones, have mastered the casting technique.
In addition, comrade Shmagin conducts a great deal of scientific research, in which he engages a wide range of the hospital's other physicians. Under his supervision, a number of doctors held several scientific presentations at inter-hospital conferences. Comrade Shmagin has written and submitted for publication 4 scientific research works and he is preparing another 3 scientific research works for publication.
Comrade Shmagin implemented a number of more efficient methods, which are now used in several of the Front's hospitals and have been approved by professor Ishchenko and professor Gorinevskaya, such as 1) gauntlet bandages, 2) a device and table for simultaneously setting bones and applying casts using the Whitman method in the case of a hip fracture, 3) abduction splint for wounded men suffering from a shoulder fracture, and 4) a cotton substitute using sawdust.
Comrade Shmagin set up a donors' group at the evacuation hospital numbering 500 men and established a blood transfusion post at Frontline Clearing Station nr. 148, which he is still in charge of at the present time.
Comrade Shmagin performs a great deal of political work among the men, he leads the candidates' group, he takes part in amateur performances, etc.
Comrade Shmagin fully deserves to be awarded the Order of Lenin."
The complete translation can be found here
More info on Shmagin can be found here
Please contact us if you have questions regarding this item