Description
Soviet Order of Suvorov 3rd class #2114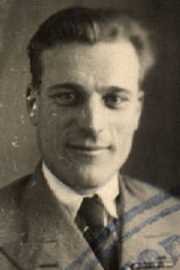 Awarded to Senior Lieutenant Ivan Leontyevich Vasichkov (Иван Леонтьевич Васичков)
For single-handedly killing 10 Germans and holding the bridgehead on the western bank of the Oder River.
Vasichkov was recommended for the title 'Hero of the Soviet Union'
Made of solid silver and enamels. Measures 50.31 mm in width and weighs 24.1 gram. The serial number and the mint mark Monetni Dvor are located on its reverse. The minimum known serial number to date for this variation is 2142 and the maximum is 12247. This makes this order the new lowest know serial number!
This original order of Suvorov is in nice condition with medium wear on its higher laying parts. The enamels however are flawless and most details are still visible. There have been no repairs and the screwpost has been shortened a few millimeters for more comfortable wear.
A unique piece with very interesting research for real combat actions. Rare as such!
Short Brief, concrete description of his feat of arms or achievements:
"On January 18, 1945 Senior Lieutenant Vasichkov's company made a swift dash and breached the enemy defenses near the town of Kazemerovka (Poland). During a short battle the company drove the enemy out of the town and seized it. Renewing its attack and overcoming all hurdles, Vasichkov's company crossed the Polish-German border and reached the Oder River.
On January 27, 1945 Senior Lieutenant Vasichkov's company was given orders to cross the Oder and consolidate its positions on the western bank of the river. Under the cover of darkness, Vasichkov led his unit to the river bank. He crossed the river using previously prepared river-crossing crafts and engaged the enemy in battle of the western bank. During the fierce engagement the company led by Vasichkov gunned down more than a hundred Germans, breached their defenses, and seized the town of Gotesdorf on the western bank of the Oder.
On the night of 27 to 28 January, the enemy launched a heavy counterattack, but Vasichkov and his troops fearlessly and steadfastly held their line. Fighting off the counterattack, Vasichkov himself killed more than 10 Hitlerites with his submachine gun and grenades. Wearing out the enemy, Vasichkov roused his men to attack and threw back the enemy. On the approaches to the town the dead bodies of 120 enemy soldiers and officers remained behind. By holding the bridgehead on the western bank of the Oder River, comrade Vasichkov enabled the division's main force to cross the Oder.
He deserves to be granted the title of 'Hero of the Soviet Union'."
Below you can find the full translation of the research:
More info on Vasichkov can be found here
Please contact us if you have questions!