Description
Soviet Order of Kutuzov 3rd class #7435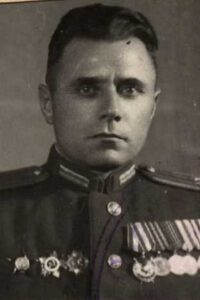 Awarded to Lieutenant Colonel Aleksei Prokhorovich Zabaznov (Алексей Прохорович Забазнов)
For skillfully organizing staff work under complex offensive fighting conditions. His regiment took 300 prisoners, killed over 2000 enemy soldiers and officers, destroyed 20 tanks and self-propelled guns, and captured 60 artillery pieces and over 500 trucks containing goods
Made of solid silver. Measures 42.18 mm in width, 44.01 in height and weighs 25.0 gram without its screwplate. The serial number and the mint mark Monetni Dvor are both located at the 6 o'clock position of its reverse. The minimum known serial number for this variation is apx 7100 and the maximum 7969.
This original order of Kutuzov is in good overall condition. The higher laying parts like Kutuzov's cheek and hair show medium wear but most details are visible. There have been no repairs and the screw has not been shortened. Both sides show an attractive dark patina and the order comes with its time period silver screwplate.
These orders are rare by themselves but this subvariation with its serial number and mint mark both located at the 6 o'clock position on its reverse is even harder to find!
Brief, concrete description of his feat of arms or achievements:
"During the offensive operations conducted between January 12, 1945 and February 9, 1945 Major Zabaznov managed to organize staff work exceptionally efficiently under complex maneuver warfare conditions, owing to which battle command was always organized well and the regiment was able to accomplish its combat missions. Properly organized reconnaissance operations yielded correct information about the enemy forces, which enabled us to make decisions and arrange combat situations in a proper manner.
Major Zabaznov himself exhibited bravery and self-control in a number of battles. He quickly organized command, control, and communications, thus ensuring the successful outcome of battle.
In each and every case battle was conducted with the enemy, the fine staff work enabled the execution of combat missions, the defeat and destruction of the enemy, and the capture of his materiel. During this period the regiment covered a distance of 580 kilometers, fighting continually. The regiment took 300 prisoners and killed more than 2000 enemy soldiers and officers, destroyed as many as 20 tanks and self-propelled guns, and captured more than 60 artillery pieces and more than 500 trucks containing goods.
Conclusion: For skillfully organizing staff work under complex offensive fighting conditions, through which he ensured our combat missions could be accomplished, he deserves to be awarded the Order of Kutuzov, 3rd Class."
The full translation of the research can be read here
More information on Zabaznov can be found here
Also included in the picture gallery is a digital image of Lt. Col. Zabaznov wearing this very same Order of Kutuzov among his other awards
Please contact us if you have questions