Description
Soviet Order of Kutuzov 1st class #585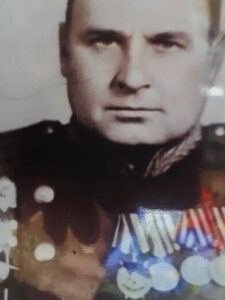 Awarded to Major General Daniil Avdeevich Karpenkov (Даниил Авдеевич Карпенков)
For effective and courageous conduct of the military operations for elimination of the German troops and for capturing Königsberg city. As a brave and decisive commander as well as an effective leader he was personally present among the army troops in the front lines
Only 675 Orders of Kutuzov 1st classes were awarded which makes it one of the rarest among Soviet orders 
Made of solid gold, silver and enamels. Measures 46.59 mm in width, 48.19 in height and weighs 40.4 gram without its screwplate. The serial number and the mint Monetni Dvor are located on its reverse. The minimum known serial number for this early 3-riveted variation is 153 and the maximum 717.
This original order of Kutuzov is in pristine condition with light overall wear only. There few minor contact marks and the higher laying parts like Kutuzov's cheek and hair show their details perfectly well. The order has no repairs and its screw remained its full length. Both the red and the white enamels are fully present and absolutely flawless. Both sides show a nice medium dark patina and the order comes with its time period an well fitted silver screwplate.
A truly amazing and extremely rare piece of great historical significance!! 
Brief and specific description of the personal feat or merits
"During the combat campaign on the Belgorod sector since 12 July 1943 till now, the division under the direct command of Guards Col. ANTSIFEROV exhibited examples of courage and Military council member of 31 army Major General comrade KARPENKOV proved himself as a brave and decisive commander, and as an effective leader. He was present in the front line units during the combat operations and provided direct practical assistance to the political officers and the field commanders in the matters of raising the troops moral and offensive spirit.
During the preparation period and during the operation itself for forced crossing of the Neman river, comrade KARPENKOV was present among the army troops and commanded effectively the political corps during the operation. The army successfully crossed the Neman river and reached close to the territory of East Prussia.
For successful forced crossing of Neman river, comrade KARPENKOV deserves state award order "BOGDAN KHMELNITSKY I CLASS"."
Note: General Karpenkov was initially awarded the Order of Bogdan Khmelnitski 1st class in November 1944 but he never received it. They later changed it to this Order of Kutuzov 1st class as can be seen by the handwritten remarks on top of the citation. The citation is for an operation in September 1944 but formally, his Order of Kutuzov 1st class is for Königsberg. The decree title reads : "For effective and courageous conduct of the military operations for elimination of the German troops south-west of Königberg and for capturing Königsberg city"
The full translation of the research can be found below:
More information on General Karpenkov can be found here, here and here
Several images of General Karpenkov can be found in the picture gallery. In one of them he is wearing this Order of Kutuzov. Also in the picture gallery are two battle maps showing his signature.
Please contact us with questions