Description

Researched Soviet Order of Bogdan Khmelnitsky 3rd class #6197
Awarded to partisan Captain Ivan Akimovich Obozny (Иван Акимович Обозный)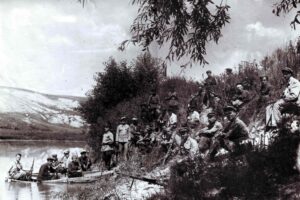 Commander of the Slavyansk partisan detachment!
Made of solid silver. It measures 45.26 mm in height; 44.67 mm in width and weighs 29.3 gram. The serial number and the mint mark Monetni Dvor are located at the 6 o'clock position on the reverse. The minimum know serial number is 3203 and the maximum number is 9890.
This original Order of Bogdan Khmelnitsky is in nice, above average condition. The higher layer parts show medium wear but most details of the portret are still visible. The reverse is in excellent condition and shows only a few dings and small scratches. The screw has been shortened by a few millimeters for more comfortable wear. It comes with its time period silver screwplate.
A great piece with interesting research to a partisan. Very rare as such!
Brief, concrete description of his feat of arms or achievements:
"Comrade M.A. Obozny was a political officer until May 22 and is now a group commander. He has shown himself a brave and able commander and a true avenger of the people. While serving as the group's political officer, comrade I.A. Obozny not only ensured the combat operations were conducted successfully, but also invariably took part in them himself and led operations.
For instance, on April 26, 1942 a group of partisans commanded by comrade Obozny carried out a reconnaissance-in-force mission between the village of Malyaka and the forestry district, where they obtained valuable information about the enemy's numerical strength and disposition. This enabled our artillery to conduct an artillery strike, which inflicted heavy casualties upon the enemy.
On April 29 a group of partisans commanded by comrade Obozny carried out a raid on the enemy dugouts at the northern outskirts of the village of Mayaki, where several Nazis were killed and 2 dugouts were blown up.
On May 7 a group of partisans commanded by comrade Obozny, along with comrade Rusinov's group, carried out a successful raid on an enemy garrison on height 165.5 (village of Mayaki), where they suppressed 3 firing positions and killed many enemy soldiers and officers during a three-hour battle.
During this engagement comrade I.A. Obozny exhibited personal bravery, thus inspiring his troops.
Through his actions he helped the Red Army.
Chief of the Ukrainian Staff of the Partisan Detachment
Major General [signed] /Andreyev/"
Below you can find the full translation of the research to the Order of Bogdan Khmelnitsky:
More information on the Slavyansk partisan detachment: here and here
More information on partisan captain Obozny: here
Please contact us with questions