Description

Researched Soviet Order of Alexander Nevsky #7294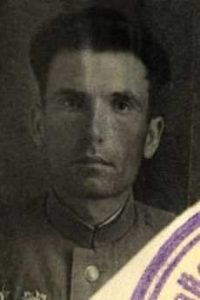 Awarded to Captain Vladimir Fyodorovich Melnik (Владимир Федорович Мельник)
For breaking the lines at Sevastopol and capturing an enemy banner! 
Made of solid silver and enamels. Measures 49.88 mm in height, 48.91 mm in width and weighs 37.2 gram. The serial number is located at the 5 o'clock position on its reverse and the mint mark right underneath the screw.
This order of Nevsky is in relative good, above average condition considering it is an early type. The original red enamel is problem free on the 3, 5 and 9 o'clock rays of he red star but shows some damage on the 12 and 7 o'clock rays. The center medallion is beautiful with little wear. Much of the original gold plating is still present. The ax on the top left of the order was broken off the order at some point and reattached. This was done a very long time ago and probably by the awardee. The original, well fitted, silver screw plate is included in this lot.
A rare piece with very interesting research for a very sharp price!
Short Description of his feat of arms or achievements:
"During the vicious fighting to liberate the Soviet Crimea from the German invaders; he showed exceptional skill in commanding his battalion in battle.
During the assault on the large enemy pocket of resistance on Sapun Hill on May 7, 1944, he launched a rapid, sudden strike from the flank; driving the enemy out of the first line of trenches and capturing 4 machine guns, a mortar battery, and up to a platoon of enemy soldiers.
Renewing the successful advance on May 9, 1944; he broke through to the suburbs of Sevastopol on the south side of Sevastopol Bay; during which he destroyed the staff of an enemy regiment. Staff documents and an enemy banner were captured.
For skillfully arranging combat situations; during which he exhibited personal initiative and inflicted a crushing blow upon the enemy; he is being nominated for the Order of Kutuzov, 3rd Class."
Below the full translation: