Description
Soviet Order of Alexander Nevsky #23149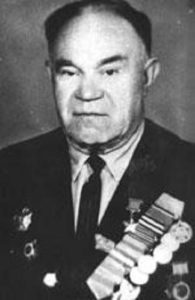 Awarded to Guards Captain and Hero of the Soviet Union Stepan Vasilyevich Lyamin (Степан Васильевич Лямин)
For personally destroying 2 machine-gun nests and killing approximately 25 German soldiers!
Made of solid silver and enamels. Measures 51.12 mm in height and 50.25 mm in width. It weighs 39.7 gram. The serial number and the mint mark Monetni Dvor are located at the 6 o'clock position underneath the screw.
This original order of Alexander Nevsky is in nice condition with all details present. The higher laying parts on the obverse show little wear and the red enamel is problem free apart from a small superficial chip on the 5 o'clock ray of the star. The gold plating on the wreath, sword and arrows is mostly present as is the gilt on the pollaxes. The screw has been shortened by a few millimeters for more comfortable wear. It comes with its time period silver screwplate.
A beautiful piece awarded to a famous Hero of the Soviet Union!
Brief, concrete description of his feat of arms or achievements:
"On January 14 and 15, 1945 he took part in breaching the multi-layered enemy defenses on the western bank of the Vistula River south of Warka. Under heavy enemy artillery and mortar fire he was present among the ranks of the advancing rifle companies, showing steadfastness and bravery. He personally, exhibiting resourcefulness and audacity, destroyed 2 machine-gun nests, killed approximately 25 German soldiers, and fought off 1 enemy counterattack, thus helping the rifle units successfully push forward and ensuring they could cross the Pilica River.
On January 23 and 26, 1945, during the fighting in the area northeast of the city of Bromberg, he was personally present among the ranks of an advancing cavalry squadron, showing resourcefulness and audacity, when the town of Krone, a large enemy strong point, was being captured. His battery destroyed approximately 2 platoons of infantry and 2 machine-gun nests along with their crews, which contributed to the successful capture of the enemy strong point of Krone and the city of Bromberg, a large strong point on the western bank of the Vistula River."
The full translation of the research:

More info about Hero of the Soviet Union Lyamin can be found here and here