Description
Medal of Nakhimov #5556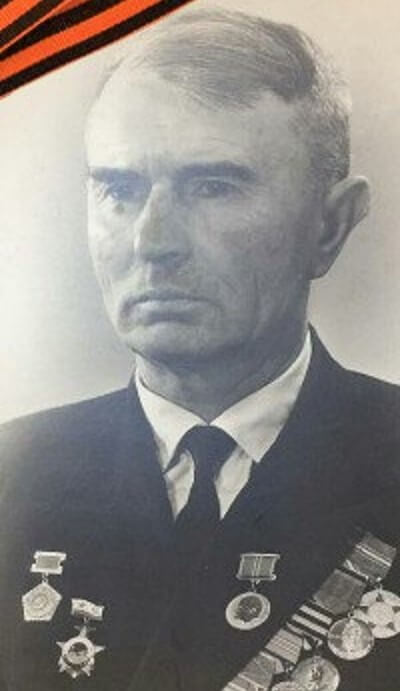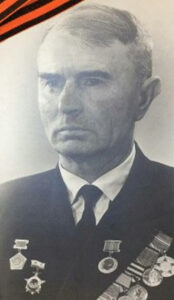 Awarded to Senior Sailor Vladimir Ivanovich Georgich (Владимир Иванович Георгич) 
For risking his life in treacherous conditions to pioneer a groundbreaking method of cutting and demolishing marine mines using a shallop. His innovation inspired others, revolutionizing minesweeping, and resulted in the deactivation of 8 enemy marine mines, including 3 cut and demolished, even in stormy weather
Made of gold plated brass. It measures 36.17 mm in width, 44.37 mm in height and weighs 21.0 grams without its suspension. Featuring admiral Nakhimov surrounded by 110 'pearls'. The serial number "5556" is stamped on the side of the medal. The minimum known serial number for this variation is 1627 the maximum is 5855.  
In nice overall condition with relatively few dings and scratches. Its raised areas like Nakhimov's head show medium wear and most details are still visible. There have been no repairs and both sides show a nice patina to the brass. The medal comes with its time period double layer suspension and old ribbon.
Desirable award with great research. Scarce as such
Brief, concrete description of his feat of arms or accomplishments:
In order to clear of enemy marine mines the fairway from Ochakov port to the exit to the sea, comrade GEORGICH was sent to a minesweeping mission, in which he proved himself as a fearless minesweeping specialist. In any weather conditions and risking his life, he strived to accomplish his assigned mission as soon as possible. Comrade GEORGICH was a shallop crew member, which for the first time in history of using shallops for minesweeping, cut off independently a marine mine and then demolished it. All other shallop crews adopted this method and started utilising it for minesweeping. During the minesweeping operations, comrade GEORGICH deactivated 8 enemy marine mines, of which 3 were cut off and demolished (2 of which were deactivated in stormy weather).
For excellent execution of combat missions, for exhibited courage and bravery, comrade GEORGICH deserves to be bestowed with "NAKHIMOV" medal.
The full translation of the citation can be read here
More info on Georgich can be found here 

Please contact us with questions