Description
Soviet Medal of Nakhimov #5451

To Senior Seaman Ivan Alekseyevich Sidorov (Иван Алексеевич Сидоров)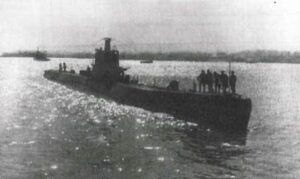 For service on the L-21 submarine
This piece is literally a textbook example for it is portrayed in 'Soviet Orders and Medals' by Andrew Reznik (page 163-165)
  
.
Made of gold plated brass. Measurements; 36.43 mm in width; 45.01 mm in height. Weight; 21.2 gram without its suspension. Featuring admiral Nakhimov surrounded by 110 'pearls'. The serial number, "5451", is stamped on the side of the medal. The minimum known serial number for this variation is 1627 and the maximum is 5855.  
This Medal of Nakhimov is in excellent condition. There are few dings and scratches and the higher laying parts show little wear and all details perfectly visible. There have been no repairs and a substantial part of the gold plating is still present. The medal comes with its original double layer suspension and old ribbon.
Desirable submarine award. Rare as such!
Brief, concrete description of his feat of arms or accomplishments:
"During the Great Patriotic War comrade Sidorov took part in 2 combat sorties on a submarine, during which he showed steadfastness and skill in servicing his machinery, thus helping accomplish combat orders in the struggle with the German invaders.
For taking part in combat sorties and for carrying out his assignments in an excellent manner, he deserves the Medal of Ushakov.
Commanding officer of the 1st Submarine Squadron, Red Banner Submarine Brigade, Red Banner Baltic Fleet
Captain 1st Grade [Navy Captain] [signed] /A. Oryol/"
The full translation of the research: Translation_Sidorov
Sidorov is mentioned in the book 'Red Star, Under the Baltic' by Victor Korzh. You can find images of the book and the page in the gallery. The book also portrays an image of Captain Alexandr Yevstafievich Oryol who signed the recommandation.