Description

Soviet Medal for Combat Merit #3019397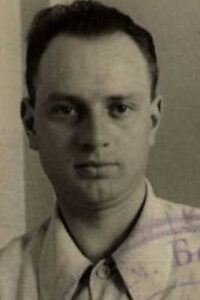 Awarded to the Jewish Lieutenant Alexander Solomonovich Pikus (Александр Соломонович Пикус)
"When there was a threat of seizure of the ciphered documents of the army headquarters by the enemy, he did not destroy them, but kept them intact, thereby enabling the command of the army headquarters to ensure uninterrupted communication with the combat units and as a result of this, combat success was achieved on this sector of the front"
Interesting to see that Lt. Pikus was recommended for an Order of the Patriotic War 1st class but this was downgraded to a Medal for Combat Merit. This is probable the biggest 'drop' we have encountered to date.
Made of solid silver and lacquer. Measures 32.10 mm in diameter and 2.23 mm in thickness. The height of the medal is 37.45 mm including the eyelet and it weighs 17.7 gram without its suspension. 
The medal for Combat Merit is in superb condition with relatively few small dings and scratches. Its details are perfect and crisp and all the red lacquer is present. Its connection ring has been cut and both sides show an appealing dark patina. The medal comes with its time period brass suspention and old ribbon.
Brief, concrete description of his accomplishments:
Comrade PIKUS is an active participant of the Patriotic War in the 9th Army of the Southern Front in the position of deputy head of department 8 (cipher). Comrade PIKUS participated in the battles: at the Nikolaevsky, Mariupol and Kerch directions. Despite the fierce battle, carrying out a combat mission near Kallarevkom, when there was a threat of seizure of the ciphered documents of the army headquarters by the enemy, he did not destroy them, but kept them intact, thereby enabling the command of the army headquarters to ensure uninterrupted communication with the combat units and as a result of this, combat success was achieved on this sector of the front.
Comrade PIKUS always ensured the fulfillment of combat missions by a cipher-link under difficult conditions, for which he has a number of thanks of the command of the 9th army and front.
In all cases of combat, in operational groups on the front line, all orders and instructions of the command were fulfilled in time and with honor.
In the battles for the cities of Nikolayev and Kallarovka, he was twice seriously wounded.
Party and Soviet organizations give comrade PIKUS a positive characteristic.
Comrade PIKUS is a disabled veteran of the Second World War 2nd grade. He has a certificate from the evacuation hospital 2460, a certificate of his military unit and a characterisation. The communique was compiled on based combat performance.
Worthy of the award of the order "Patriotic War 1 degree."
More information on Lieutenant Pikus can be found here
Please contact us with questions regarding this object!