Description

Soviet Medal for Combat Merit #128783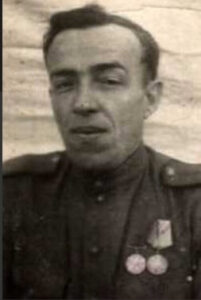 Awarded to the Lieutenant Ilya Denisovich Bubnov (Илья Денисович Бубнов)
Awarded for his effort providing the Command with uninterrupted signalling capability
Made of solid silver and lacquer. The medal itself measures 32.22 mm in diameter and 36.17 mm in height including the eyelet. It weighs 22.7 gram without its suspension and 32.2 gram with the suspension but without the nut. The eyelet is 5.23 mm in width and the suspension measures 25.63 mm in width at its narrowest point and 31.46 at its widest point.
The medal is in a nice, above average condition with several small dings and scratches but most details still visible. The lacquer filling the letters 'CCCP' is partly present and original although some of it discoloured over time. The silver suspension is original as is the silver screw, hexagon nut, the brass screwplate containing the text 'Monetnij Dvor' and the plate holding the ribbon. Its connection ring has not been cut.
Scare to find with all parts original!
Brief, concrete description of his feat of arms or accomplishments
"He is devoted to the cause of the Lenin-Stalin party and the Socialist Motherland. He is disciplined, resourceful, and exemplary officer and specialist. He is very proficient in the signalling service.
In the Patriotic war, he has always been on his combat post observing and maintaining the signalling lines.
In the cases when the the wireline signalling was disrupted or interrupted, he employed all the recovery measures: alerted and activated the maintenance personnel of the control posts and stations. This effort provided the Command with uninterrupted signalling capability.
He deserves state award – medal "FOR COMBAT MERITS"."
The full translation of the citation is listed below: 
More info on Lt. Bubnov can be found here
In the picture gallery an image of Lt. Bubnov can be seen wearing this very same Medal for Combat Merit 
Please contact us with questions regarding this object!