Description
Soviet Medal fo

r Bravery #86007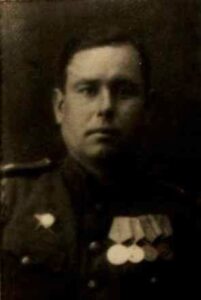 Awarded to Major Nikolaj Fomich Samoilenko (Николай Фомич Самойленко)
For exhibiting courage and bravery in preserving supplies while being under the enemy artillery and machine-gun fire
Made of solid silver. Measures 37.27 mm in diameter, 3.07 mm in thickness and 41.61 mm in height including its eyelet. The eyelet is 5.46 mm wide and the medal weighs 30.4 gram without its suspension. 
In a fair, combat condition with medium overall wear. Some of the details of the higher laying parts like the rivets on the side of the tank and the canons have worn off but most are still visible. The lacquer filling the lettering is gone which is seen often with these early wartime medals. Its silver connection ring has been cut.
This medal was originally on a rectangular suspension and was replaced by a pentagon shaped one made of double layer steel to comply with the new 1943 regulations of wearing Soviet awards.
Short translation of the research:
"Comrade SAMOILENKO many times exhibited courage and bravery in preserving the Socialist property, i.e. food supplies. Such as on the station Bessarabskaya, when the main army for depot was on the move, all the materials were evacuated with his direct leadership from under the enemy artillery and machine-gun fire. He is initiative in providing the best food to the troops.
He is disciplined and brave. I recommend comrade SAMOILENKO to be bestowed medal "FOR BRAVERY" and to be promoted to the next rank Intendant I rank of technical service."

More information on Samoilenko can be found here
Three images of Samoilenko were found. These can be viewed in the picture gallery. One of them shows him wearing this Medal for Bravery
Please contact us with questions