Description

Soviet Hero of Socialist Labor #9268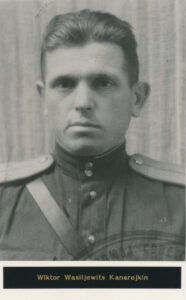 Awarded to Viktor Vasilyevich Kanareykin (Даниил Васильевич Семененко) (1924-1997)
He was transported to Germany for forced labor, but managed to escape 
The small certificate is in excellent condition with all pages firmly attached and very few traces of wear on its leather cover. The large certificate is in excellent condition as well but shows som dents on the obverse of its cover and some tape residue on its last inside page. Both certificates are dated 19 July 1958 and are named to Viktor Vasilyevich Kanareykin.
Short biography of Kanareykin:
Kanareykin Viktor Vasilievich – steelmaker of the open-hearth shop of the Dnieper Metallurgical Plant named after Dzerzhinsky, Dnepropetrovsk Economic Council, Ukrainian SSR.
Born November 20, 1924 in the city of Kamenskoye (in 1936-2016 – Dneprodzerzhinsk, now Dnepropetrovsk region, Ukraine) in a working class family. Russian. During the Great Patriotic War he lived in the territory occupied by the Nazis (1941–1943). He was driven to Germany for forced labor, but managed to escape.
He crossed the front line and in 1944 was drafted into the Red Army. He served as a mortar man of 120 mm mortars of the 102nd Guards Rifle Regiment of the 35th Guards Rifle Division of the 8th Guards Army. He fought on the 3rd Ukrainian and 1st Belorussian fronts. Three times wounded. He was awarded two orders of the Red Star, the medal "For Courage".
After demobilization, he returned to Dneprodzerzhinsk and went to work as a henchman in open-hearth shop No. 2 at the Dneprovsky Metallurgical Plant. He quickly mastered the skill of smelting steel, became a steelworker. He managed to achieve a significant overfulfillment of the plan – in a year he smelted over 7000 tons of steel over the plan.
By a decree of the Presidium of the Supreme Council of July 19, 1958, for outstanding achievements in the development of ferrous metallurgy, Viktor Vasilyevich Kanareykin was awarded the title Hero of Socialist Labor with the award of the Order of Lenin and the Gold Hammer and Sickle Medal.
He continued to work at the plant until his retirement.
He lived in the city of Dneprodzerzhinsk. He died on July 13, 1997.
He was awarded the Orders of Lenin (07/19/1958), World War 1 degree (11/03/1985), 2 Orders of the Red Star (03/12/1945; 05/24/1945), medals, including the medal "For Courage" (08/15/1944) .
Full details can be found here 
Please contact us if you have questions!