Description
Soviet Order for Service to the Homeland in the Armed Forces of the USSR 3rd class 

#16082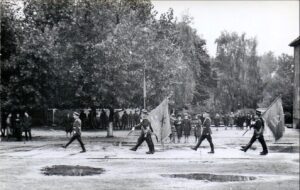 Awarded to Captain Gennadij Nikolaevich Navolokin (Геннадий Николаевич Наволокин)
Made of silver and enamels. Measurements; 57.38 mm in width, 57.30 mm in height and weighs 63.5 gram. The mint mark "Monjetnij dvor" is located above the screw post in one curved line and the serial number "16082" is positioned at the bottom of its reverse.
This original order is in excellent condition with all details crisp. The blue and white enamels are flawless and there are few dings or scratches. There have been no repairs and the screw has not been shortened. Both sides show an medium dark patina.
The translation of the record card can be found here: NAVOLOKIN
Captain Navolokin served in the 33 "Berlin" motorised rifle regiment, 207 "Pommerania" motorised rifle division. They were part of the Group of Soviet forces in Germany. Stationed in town Stendal. More photos of the 33rd regiment from September 1967 can be found here
Excellent further research potential! Please ask for the possibilities if interested! 
Please contact us with questions!