Description
Documented Group of Soviet Medals mounted on an old brass suspension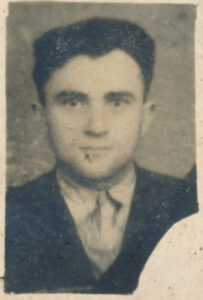 Awarded to Moldavian guards sergeant Ivan Danilovich Grubiy (Иван Данилович Грубый)
The group consists of the following items:
Medal for Bravery #2624803

Made of solid silver. Measures 42.32 mm in height including its eyelet, 37.40 mm in width and weighs 28.3 gram. The medal is in a worn but decent condition with numerous small dings and scratches. The details however are crisp and a fair amount of red lacquer still present although some is covered by some dirt. Its connection ring has been cut.
Medal for the Victory over Germany
Made of gold plated brass. Measures 36.28 mm in height, 32.20 mm in width and weighs 16.7 gram. In great condition with most details and gold plating present.
Medal for the Liberation of Prague
Made of gold plated brass. Measures 37.18 mm in height, 32.09 mm in width and weighs 17.7 gram. In nice condition with all details crisp.
Documents
Award booklet number A 037831 mentioning the Medal for Bravery only. In worn condition with its pages not attached to the cover. Comes with a picture of sergeant Rough.
Document for the Prague medal dated 20 May 1946. Numbered A 127006
Old brass suspension with original worn ribbons
Short excerpt on the awadee:
Gunner 82 mm mortar guard sergeant Ivan Danilovich Grubiy

Born in 1922, Russian, non-partisan, drafted into the Red Army
in 1.4.1944. Otatokim RVC of the Sarizh region, home address.
Awarded for being wounded 2 times on 6.11.44 and 25.1.45 by the Nazi invaders.
No earlier reward
More information on Guards sergeant Grubiy can be found here
Please contact us if you have questions! contact